Join us for the premiere screening of the 2013 GreenScreen Student environmental films. An exhibition of five student films that will cultivate your eco-conciousness.
Where the Wonder Went
Where the Wonder of Science Went and How Teachers Are Bringing It Back
Filmmakers: Bryan Latchford, Casey O'Hara and Susan Dworsky
---
Can Fairies
A look into the lives of the can collectors in the Isla Vista community.
Filmmakers: Sarah Agronow, Maggie Jenkins, and Maya Safadi
---
I Am the 40%
All this carrot wants is to be eaten. Are you going to throw him away?
Filmmakers: Michelle Musser, Brooke Malik, Travis Lee, and Adam Knox
---
Tar Wars

An investigation into the impact of offshore drilling on natural oil seepage in the Santa Barbara Channel leads to a contentious discussion that reaches far beyond the local science.
Filmmakers: Emily de Moor, Bridget Kaba, Jennifer Cortez, and Kajsa Niehusen
---
The Cave
Something Flipper This Way Comes
Filmmakers: Christopher Witschy, Spencer Byam-Taylor, Joáo Pedro Bastos, and Dylan Prokop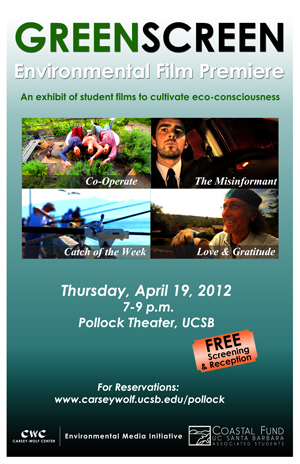 Sponsored by the Carsey-Wolf Center's Environmental Media Initiative, Department of Film and Media Studies, and UCSB Associated Students Coastal Fund.